"It's a boy! Catherine, Duchess of Cambridge, has given birth to the first child for her and Prince William."
Prince William says he and his wife Catherine "could not be happier" to welcome their first child, after the duchess gave birth to a boy.
The Duchess of Cambridge gave birth to a son on Monday, the third in line to the throne, a baby destined to be the 43rd monarch since William the Conqueror obtained the English crown in 1066.
Kensington Palace announced at 8.30pm that the baby was delivered at 4.24pm in the exclusive Lindo wing at St Mary's hospital, Paddington, west London. His name will be announced in due course. "We could not be happier," the Duke of Cambridge said.
In a statement, Kensington Palace said: "Her royal highness the Duchess of Cambridge was safely delivered of a son at 4.24pm. The baby weighs 8lbs 6oz. The Duke of Cambridge was present for the birth. The duchess, who had planned for a natural birth, experienced at least 10-and-a-half hours labour, which Kensington Palace said had "progressed as normal".
The birth of the baby prince means the monarchy has three generations of heirs to the throne for the first time since 1894 and the birth of the future Edward VIII.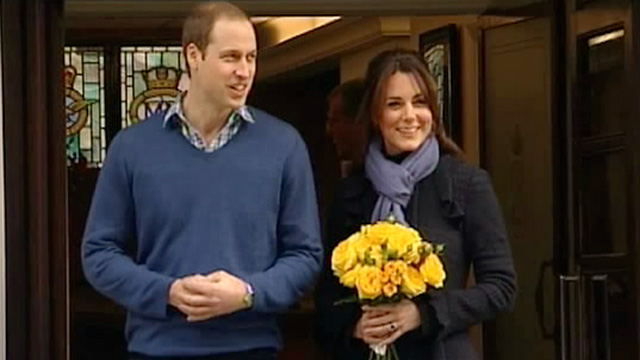 The baby's name has not yet been announced, but he will be known as the Prince of Cambridge.
There is no precedent for when the royal couple will announce the name. Prince William was not named for a week, while Prince Charles's name was not announced for a month.
The baby's grandfather Prince Charles issued a statement saying he and his wife Camilla were "overjoyed" at the arrival.
The statement issued by Clarence House said,
"It is an incredibly special moment for William and Catherine and we are so thrilled for them on the birth of their baby boy."
"Grandparenthood is a unique moment in anyone's life, as countless kind people have told me in recent months, so I am enormously proud and happy to be a grandfather for the first time and we are eagerly looking forward to seeing the baby in the near future."
Hundreds gathered outside the hospital to celebrate the news. The crowd sang: "Happy birthday dear royal baby," in absence of a name.
Later several hundred people were outside Buckingham Palace, where an ornate easel announced the birth.
Congratulations Prince William and Duchess Catherine !
Here's the
Prayer for royal baby.
The Church of England has put this on its website.
who knows each of us by name
and loves us from all eternity:
we give you thanks for new life and human love.
Bless William and Catherine
as they welcome their son into the world.
Give them patience and wisdom
to cherish and love him as he grows.
Surround the family with the light of hope and
the warmth of your love today and always;
through Jesus Christ our Lord.